If you are a business owner looking to stock up on quality products at affordable prices, buying wholesale is a smart strategy. One of the best places to find a wide range of products at wholesale prices is Guangzhou, China. Known as the "Wholesale capital of China," Guangzhou offers an extensive selection of products across various industries.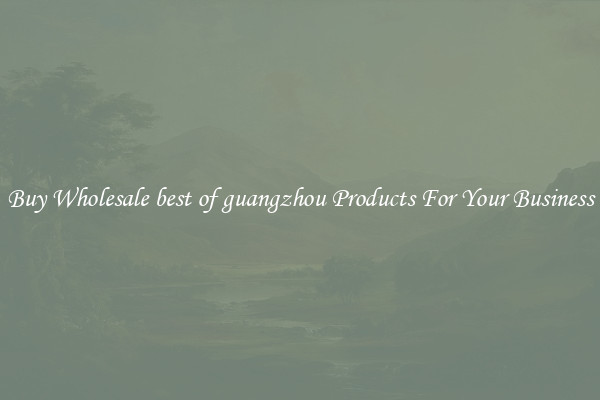 Guangzhou is home to countless wholesale markets, where you can find everything from electronics and clothing to furniture and household goods. These markets are a haven for business owners looking for great deals and high-quality products to sell in their stores or online.
One of the biggest advantages of buying wholesale in Guangzhou is the competitive pricing. Due to the large number of suppliers and manufacturers in the region, you can often find products at significantly lower prices compared to retail. This means that you can increase your profit margins and offer competitive prices to your customers.
Furthermore, buying wholesale allows you to purchase larger quantities, which can lead to even greater discounts. This is particularly beneficial for businesses looking to establish long-term relationships with suppliers and secure consistent inventory for their operations.
Another advantage of buying wholesale in Guangzhou is the vast selection of products available. Whatever your industry or niche, you are bound to find what you need in Guangzhou. Whether you are looking for electronics, clothing, accessories, furniture, or even food products, there is a market in Guangzhou that specializes in it.
Moreover, many suppliers in Guangzhou are open to customization and private labeling. This means that you can request specific designs, colors, or packaging for the products you purchase, allowing you to differentiate your business from competitors. Customization options can give your products a unique edge and enhance your brand image in the market.
When buying wholesale in Guangzhou, it is crucial to do your due diligence and ensure that you are working with reliable suppliers. Research and visit different markets, compare prices and quality, and ask for references or samples before making any commitments. Taking the time to find trustworthy suppliers will help you avoid scams or receiving low-quality products.
In conclusion, buying wholesale in Guangzhou is a fantastic option for business owners looking to stock up on quality products at competitive prices. With the extensive selection available and the potential for customization, you can find the best products to suit your business needs. However, be sure to conduct thorough research and due diligence to find reliable suppliers and ensure the success of your wholesale purchasing venture.